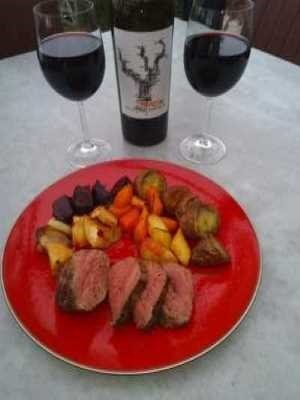 Everyone needs a little treat during lockdown, here is our suggestion for this week
Venison striploin served with roasted root vegetables
Striploin from Deer & Dexter - we ordered 350g, other sizes are available - best to pre-order for collection at the market if you want a specific cut and size
Root vegetables roasted in rapeseed oil from Lovesome Oil
Recipe tips - we rubbed the venison is rapeseed oil then added crushed juniper berries. We seared the meat in a pan then roast for 8 minutes then rested for 5 minutes, this produced a delicious medium rare joint, leave a couple of minutes more for medium.
Veg - we used Carroll's Shetland black potatoes, carrot, parsnip, shallot, beetroot and celeriac, cut into 1 inch chunks, roasted with rapeseed oil, rosemary and sea salt for about an hour. You could select your veg mix from Bluebell Organics depending on what they have available on the day.
Wine recommendation - Lodi Old Vines Zinfandel, California - yum!