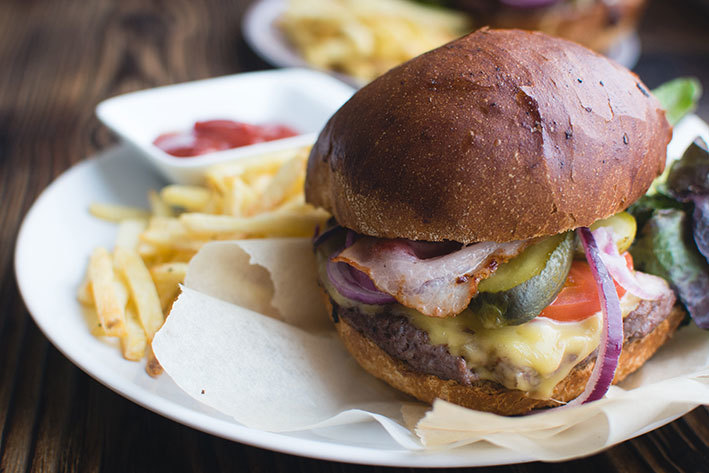 Being the 4th July, many of you will be dining by way of the BBQ and what better way to start than the great American classic, the beef burger. Here are just a few ideas to get the BBQ party going. Most of the ingredients can be purchased from the following stalls. Enjoy.
Deer 'n Dexter, Mainsgill, Westholme Farm, Durham Venison & Game and Sue's Bread, Honey B Company, Wildon Grange, Westnewton Artisan Charcuterie, Heartwood Poultry, Teesdale Cheese & Northumberland cheese.
Sloppy burgers: beef filet, diced, sweet onion and green pepper, minced, garlic, hot steak sauce (try making your own), Demerara sugar, dry mustard and of course, brioche buns.
Louisiana burger: with spicy mayonnaise, Dijon mustard, spring onion, white and pale green finely chopped, paprika, thyme, garlic, cayenne pepper thin slices of quality cheese, ham and red onion.
Blue Cheese burger: braising steak mince, sirloin mince, seasoned dry bread crumbs steak sauce, eggs hamburger rolls, blue cheese, sliced rocket and sliced tomatoes.
Chicken sausage burgers: pancetta, chopped onions chopped, bay leaf, ground chicken, fennel seed, lightly toasted, chilli flakes, allspice, zest and juice of an orange, finely chopped rosemary, Worcestershire sauce, honey crusty baps, split, toasted and drizzled with extra-virgin olive oil or buttered
Enjoy your day at the market and have a lovely weekend until we see you next time. Don't forget, it's Taste of Teesdale at Raby Castle, Sunday 19th July 10am-4.00pm only £6.00 per vehicle.