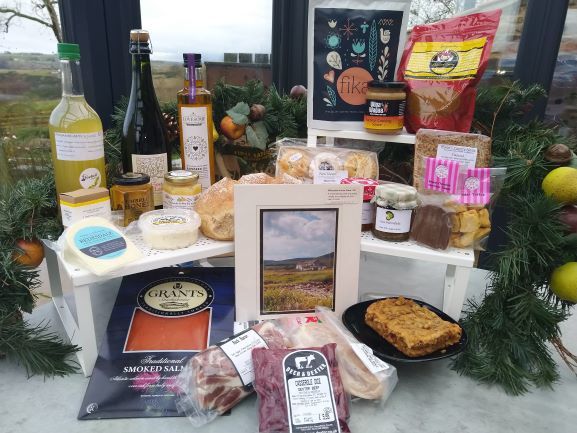 It's a wrap! We had a great day for our final farmer's market of 2020 at Barney on Saturday. We will be back on 5th February 2021 – venue to be confirmed but will either be inside the Witham or back on the Cobbles. Some of our stall holders will be at Bowes Xmas fair this weekend, and you can still order directly from many of the producers – all of their details are available here on our website.
Our competition winner, Pamela, sent us a lovely message to say thank you for her voucher – she had 'enjoyed choosing delicious treats from the market, including venison, organic vegetables, cheese and desserts' and was 'happy to share her good fortune with some dear people at home'. I can also report that the organiser of the market was thrilled to receive a hamper of goodies from the rest of the stall holders – now I know what it's like to win the raffle! The picture shows everything that was included and is a great showcase for the wide range of produce available. Our market is a 'not for profit' community interest organisation, run on a voluntary basis, and is a great local initiative to be involved in – if anyone wants to join us there are always jobs to do before, during and after the market.
Happy Christmas from all at the market, thanks for your support, and we look forward to seeing you again in February.