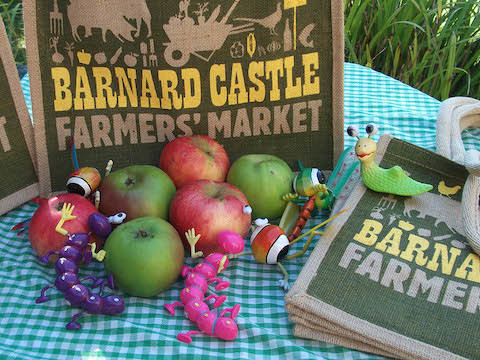 Help! The bugs are after our apples!!
There is potential trouble in store at Barnard Castle farmers market this month – there are bugs out to eat the apples and they need the children to hunt them out amongst the stalls to save the day… this and other fun will be part of the Apple Day planned for the market on 1st October
The new market manager Katrina Palmer who has recently taken over the role from William Ramsbottom tells us more
" October at the market has always traditionally been an apple day and its no different this year – we always like to have something fun for the kids to get involved in – so I thought it would be a great idea for then to look out for the bugs hidden on different stalls on the market." There are 7 to find and a prize of a toffee apple made by local fudge producer Loopy Lisa for the first 30 children to complete the task
As well as this activity the market will be busy showcasing all the fantastic products for sale that contain apples from apple sausages and burgers from Barton Farm Products and Deer n Dexter to orchard Chutney from Just William and apple and cinnamon brownies from Forge Lane . Other delights include apple crumble with a ginger topping from Gingerbread Mam , apple smoked trout filets from Bessy Beck and home made organic apple juice from Bluebell Organics.
There will be a raffle with the chance to win a market bag full of these products
Katrina will be hosting a stall herself to promote the raffle and the childrens activities but also to launch the sale of some great new market bags which have been designed to promote the market as well as other local farmers markets in the region.The bags are a great way to reduce the use of plastic bags and to gather up all the great produce on the market and can be bought for £3.50 each
The market is on Saturday 1st October in the market place in Barnard Castle – 10am – 3pm