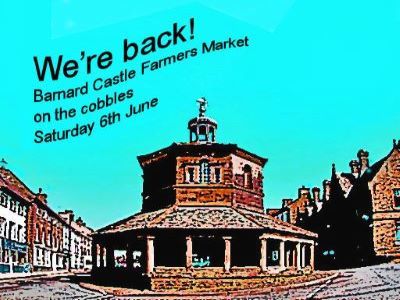 On 6th June we will be back on the Cobbles with our first outdoor market of the year.
Our stalls will be double spaced to ensure that there is plenty of room for safe distancing. Only 1 person or household group to approach each stall at a time please. We will have a hand washing station plus hand sanitizer available. We are encouraging contactless payment wherever possible but cash will still be accepted if there is no other option. Stall holders will arrange their produce to encourage safe distancing and we ask that you dont handle produce until you have bought it - our stall holders are all involved in the production of their goods so can answer any questions you may have.
Much as we would love to see you all, please stay alert and do not come to the market if you are self isolating or displaying any symptoms, as per government guidance. If you have any concerns on market day please let one of the stall holders know - we reserve the right to close the market at short notice if we feel that it is unsafe to continue.- the safety of our customers and our stall holders is our key consideration
We are pleased to announce the stall holder list for our first outdoor market of 2020:
Alison's Country Pantry
Beeswax Wraps
Bluebell Organics
Breaking Bread – joining us from the Wednesday market by popular demand
Creative Seafoods
Deer n Dexter ( pre order for collection at market – please send your orders directly to Jane)
Heartwood Poultry
Just Williams – back for his last hurrah ( or is it? )
Lovesome Oil
Lowfield Gardens
Mrs B's Kitchen
Northumberland Cheese
Spicymonkey – back from another world travel adventure
Westmorland Soaperie
Some of our missing stall holders are still self isolating but we hope they will be back with us from July.